LoRaWAN RF Transceiver Module
Functions of the LoRaWAN module WD-FLxx series include long-distance, low-power and secure data transmission; it can be applied on public, private or hybrid networks, and can be easily connected to existing infrastructures to realize low-cost, battery-powered IoT applications.
LoRa is a low-power, long-distance, high-penetration, low-cost technology that can be flexibly applied on smart meters, smart homes and buildings, agriculture and animal husbandry management, smart monitoring, and other applications at indoor or outdoor locations. We can customize application firmware, integrate more sensors and create business efficiency for customers.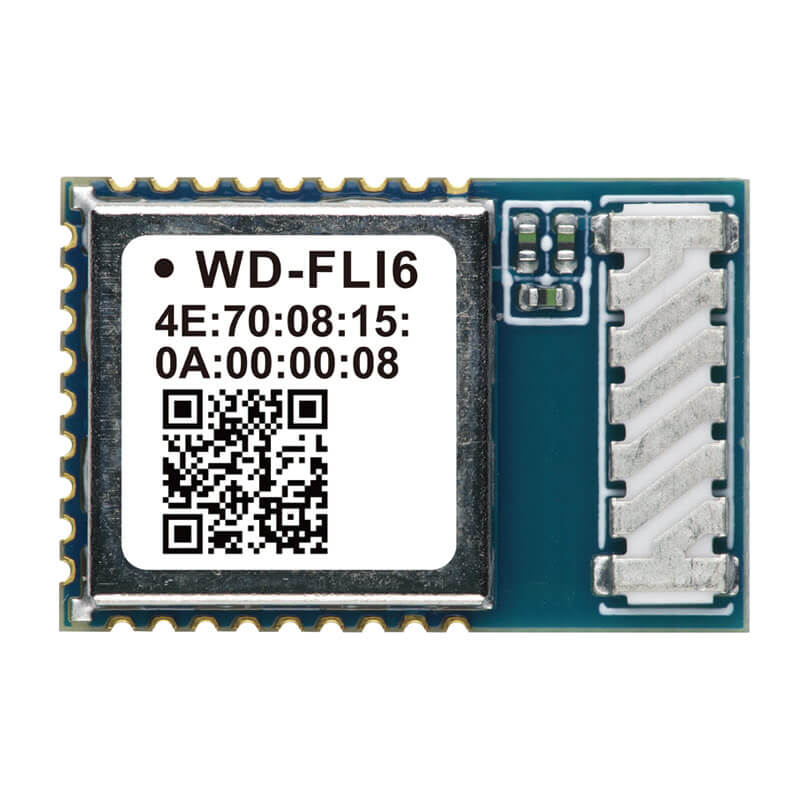 WD-FLI6 is module used for the industrial standard LoRaWAN, and supports the 868 MHz frequency bands; they have highly integrated antennas and MCU suitable for IoT LPWAN network sensor applications. The WD-FLIx module design includes DIO / ADC / UART / SPI / I2C pins for basic applications.
We also have a simple EVK product that could help you quickly evaluate whether the module meets your needs.
Temperature and Humidity Sensor × 1
Buttons × 2
Power Supply: AA Battery × 2
Micro USB Interface × 1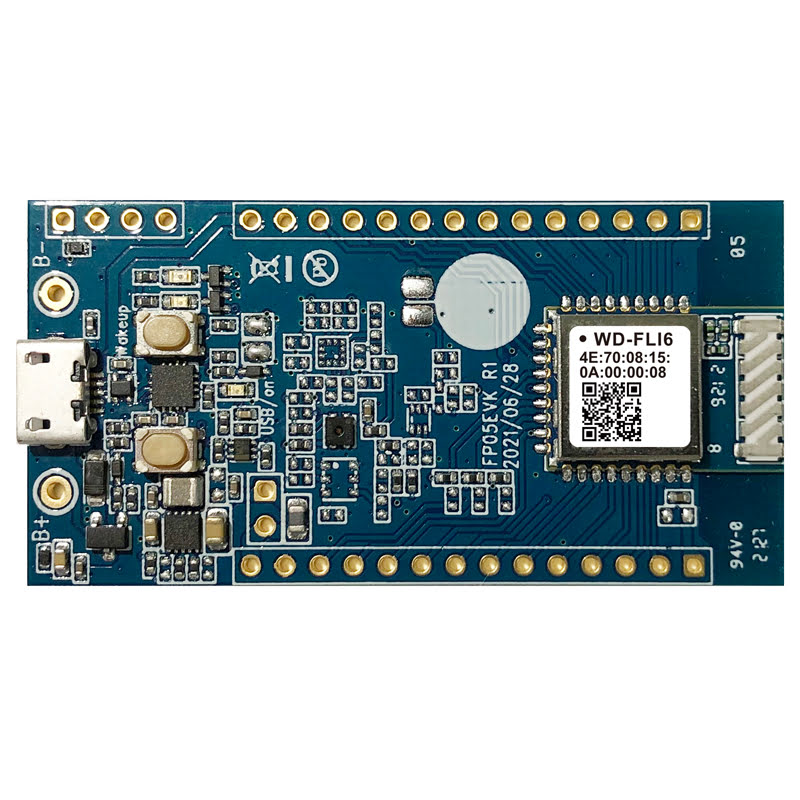 Frequency Band: 868MHz
Dimension: 12(W)×18(L)×2.45(H) mm 27pins SMD
Antenna: Built-in Chip Antenna
Temperature Range: -40°C ~ +85°C
Supply Voltage: 3.3 V Type (1.8 V ~ 3.6 V)
TX Power: Transmitter max output power +20.5 dBm
RX Sensitivity: -148 dBm for LoRa(at 10.4 kHz, spreading factor 12)
Transmitter Current: 108mA @ Max output power in 868MHz type (50 Ω)
Sleep Current: Less than 2uA
Modulation: LoRa (Chirp Spectrum)
Protocol: LoRaWAN V1.03
LoRaWAN Region: EU868, IN865, RU864
Topology: Star
Bitrates: Up to 62.5K bps