The main features of LoRa wireless technology are long-distance, high penetration, anti-interference, etc., which are enough to fill many characteristic gaps between BT / Wi-Fi and 2G / 4G.
These features also give LoRa more possibilities in the application, such as water level monitoring application of the water tower, container dispatch application, debris flow and water level monitoring, environmental pollution and early warning monitoring, smart electricity metering and other home detection applications, it is very suitable for data recording and control of indoor and outdoor IoT devices.
/wp-content/uploads/2018/03/logo-b-4.png
0
0
chu
/wp-content/uploads/2018/03/logo-b-4.png
chu
2021-10-05 14:05:36
2021-10-05 14:05:36
LoRa Technology Is Connecting Our World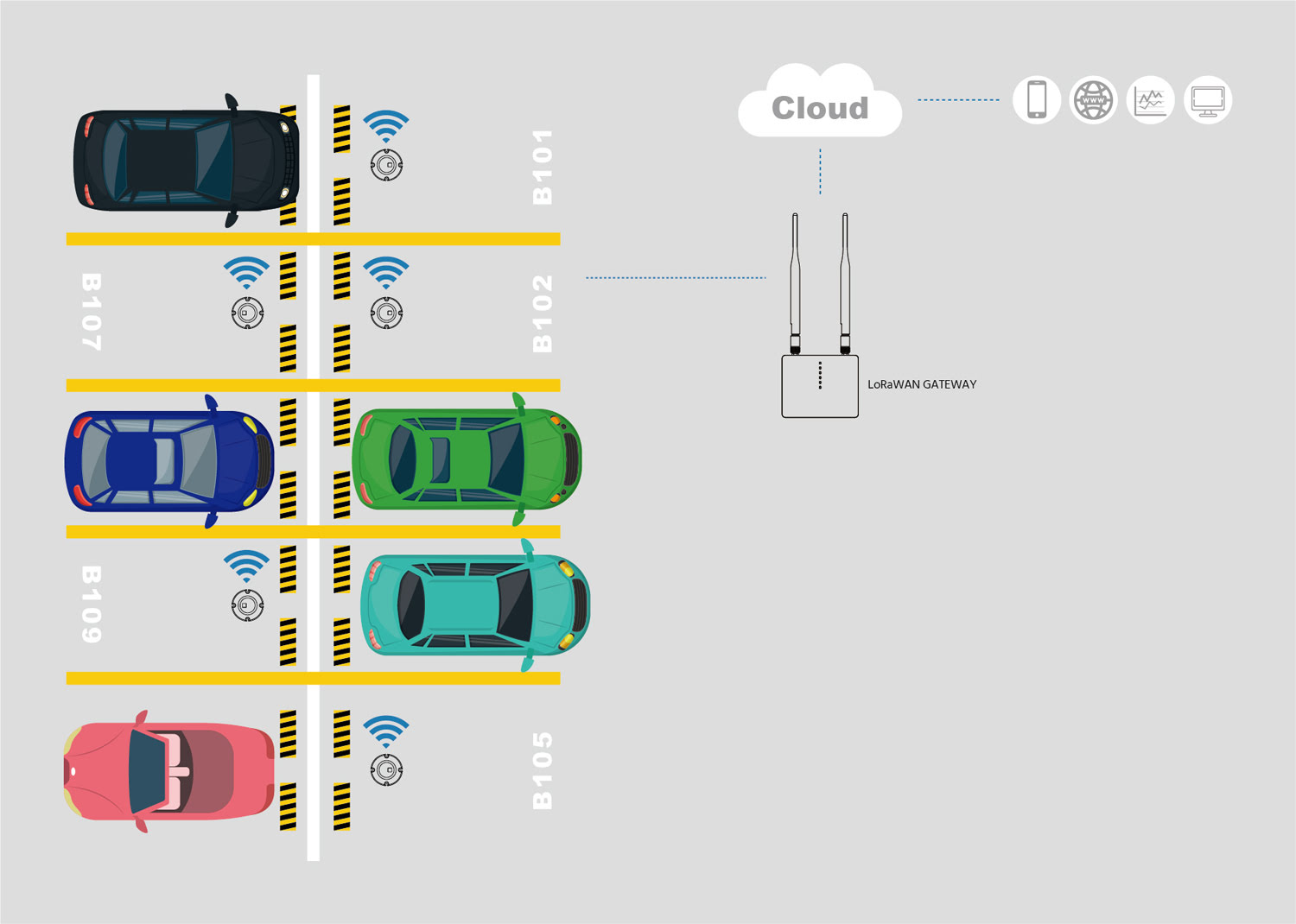 "Smart Parking Solution-Sensing Applications" uses geomagnetic sensors that are easy to install and have low maintenance costs to provide users with the most immediate and effective parking management for each parking space and each region.
Not only can parking operators reduce management costs, but also make it easier and faster for people to find parking spaces. (…more)
/wp-content/uploads/2018/03/logo-b-4.png
0
0
chu
/wp-content/uploads/2018/03/logo-b-4.png
chu
2021-09-15 10:06:21
2021-09-15 10:06:21
Smart Geomagnetic Parking Sensor
We are professional manufacture in the industrial wireless gateway, GPS navigation receiver and communication radio for more 20 years. To meet the growth and prosper on the Internet of things (IoT) and the mobile peripheral wireless application, we develop a variety of wireless gateways to use in different wireless networks as like NB-IoT, private LoRa, BLE and FSK.
Our LoRa gateway is belongs the private LoRa, not LoRa WAN. It features good anti-interference performance to prevent electronic jamming and provides the long distance transmission. Different from LoRAWAN, the private LoRa is the free network. Furthermore, the output power of LoRa gateway is 2W, the transmitted distance is up to 40km even 50km. More suitable for smart agriculture management and smart wind farm solution to save construction cost. The device is based on your requirement to adjust the frequency in 410~525MHz & 862~1020MHz. Many customers as like system integrator and sensor supplier purchase the wireless gateway to communicate RS-485 devices and SCADA controller.
Our NB-IoT gateway supports more LTE bands and interfaces. The operating LTE Bands supports Band 1 / Band 3 / Band 5 / Band 8 / Band 20 / Band 28. Convert an analog signal into data packets through the analog / digital input pins and support TCP, UDP, MQTT and Line Notify protocol.
Transforming the wired into wireless and the signal into data Packets. It is not difficult that collecting data from sensors and upload to the cloud.
Moreover, the monthly cost is cheaper than 4G / Ethernet. Connect one or multiple sensor via RS-485 Modbus.
It is possible you only need to have the corresponding command to update the meter to the meter regularly through our scheduling function.
WW-5D20 is the RS485 & 5port AUX In / Out NB-IoT gateway that has extended from the WW-5C20 outdoor gateway. Up to 5 Ports analog inputs and digital inputs/outputs support external devices.
If you are interested that, please do not hesitate to contact us.
/wp-content/uploads/2018/03/logo-b-4.png
0
0
chu
/wp-content/uploads/2018/03/logo-b-4.png
chu
2021-08-13 16:11:30
2021-08-13 16:22:44
Everything You Need in IoT Solutions